INFINITI of The Palm Beaches has partnered with Coaches vs. Cancer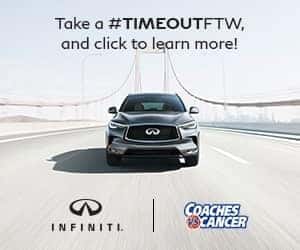 Join the Fight to End Cancer!
By forming a team, we stand shoulder-to-shoulder with the American Cancer Society in the fight against cancer.
Cancer is a fierce opponent, but our team is committed to helping the American Cancer Society raise awareness about what we can do, together, to help end this disease. Our mission is clear – keep fighting for the day when no one hears the words "you have cancer."
Please join us in the fight – donate to our team and help us save more lives!
Why We Support the American Cancer Society
Our team's participation supports the American Cancer Society, the leader in the fight to end cancer. The donations our team raises will enable investments in groundbreaking cancer research and free information and services for people facing cancer. For more than a century, the American Cancer Society has led the way in the fight to end cancer – and we are excited to be part of their team.